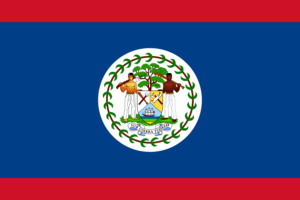 Flag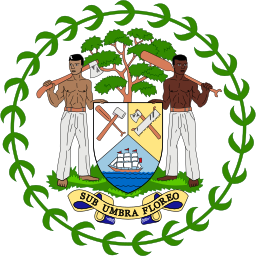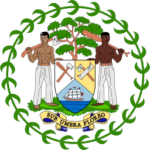 Coat of arms
Capital
Belmopan
The name derives from the union of two words: "Belize" and "Mopan". After the devastating Hurricane Hattie destroyed the former capital, Belize City, in 1961, the government was shifted to Belmopan in 1970.
Of. language  
English 
Belize is the only Central American Country where English is the official language.
Population  
2020 Estimate 419,199
Belize is one of the least populated countries in the world.
Religion 
63.8% Christianity
25.5% No religion
10.1% Others
0.6% Undeclared
Climate
Belize has a subtropical climate, with a well-marked dry season from late February to May and a wet season from June to November that is interrupted from August to September by another dry season. The mean temperature in Belize City is about 74 °F (23 °C) in December and 84 °F (29 °C) in July.
The Belize Barrier Reef is the second largest coral reef in the world and was declared a UNESCO World Heritage Site in 1996
Belize has the only Jaguar reserve in the world which is known as Cockscomb Basin Wildlife sanctuary.
Belize's Black Howler Monkeys are one of the top 10 loudest animals in the world.
Belize is part of the Mundo Maya (Maya World) and at one time was home to a vast population of Maya, a complex, intricate, and incredibly advanced culture for its time. For roughly 2,500 years, the great Maya Civilization achieved technological advancements and discoveries in areas of architecture and city planning, astronomy, agriculture, writing, mathematics and much more.
During the Age of Exploration Spain and England struggled to control the territory we know as Belize. Ultimately Great Britain repelled the Spanish and in 1862 the settlement was named "British Honduras", then declared a Crown Colony, and became part of the British Commonwealth. Since Belize was founded by the British and not the Spanish, it is unique among the other countries of Central and South America. Belize operates under a Common-Law System, follows a Parliamentary Process, is an officially English-speaking country, and maintains strong private property rights.
From the 1920s to the 1980s, Belize sought their independence. The colony of "British Honduras" was extended voting rights in 1954 and gained the right to self-governance in 1964. In 1973 the name "British Honduras" was officially changed to Belize and on September 21, 1981 the country celebrated its independence and became a sovereign nation.
The National Anthem of Belize is "The Land of the Free", which is very appropriate for a melting pot of a nation that has attracted freedom seekers from its very beginning. The population of Belize continues to grow with freedom loving individuals, including in Carmelita Gardens, which fits right into the enduring and endearing Belizean spirit of independence, self-sufficiency, harmony, and hospitality
Peaceful, friendly, and free are the words most often used to describe life in Belize. In Carmelita Gardens we also hear the words safe, self-sufficient, and fun. These are the qualities of life that are attracting an increasing number of people to Belize. Every individual has their own dreams, lifestyle, and budget and for many Belize is the tropical paradise they yearn for.
When considering what one needs to build a life anywhere, we compare our options based on several factors: cost of living, housing quality and location, access to food, goods, and services, transportation, healthcare, utilities, communication, social and recreational opportunities… to name a few. Belize can tick all these boxes, providing a level of independence and freedom to build your lifestyle in a way that truly fits you.
Belize is a small country rich with natural and manmade wonders, Rainforests, Rivers, Reefs, and Ruins, which are all within easy reach. You can wake up in your home in the western Cayo District and be toes-in-the-sand on a caye (island) or under a waterfall in the mountains by lunch time. The ability to easily sojourn to all the stunning parts of this beautiful country is part of what makes living in here so exciting. In keeping with free and independent lifestyles, self-sufficient off-grid living in Belize is becoming increasingly popular and is aligning with the goals of the nation.
The Government of Belize (GOB) has become a leader in renewable energy within the Caribbean and Central America. In fact, while pursuing alternative energy initiatives the GOB uses Carmelita Gardens as a prime example of a private sector development successfully using off-grid technologies. With these advancements in technology people can continue to live in pastoral rural areas, have increased energy security, and retain their small-town traditions. Life in Belize is a throwback to a simpler time; a time when being with loved ones was a priority and spending healthy time outdoors and quality time in nature was far more important than materialism and consumerism.
That Belizean lifestyle is evident in Carmelita Gardens, the nearby village of Santa Familia, the town of San Ignacio, and the thriving Mennonite Community of Spanish Lookout.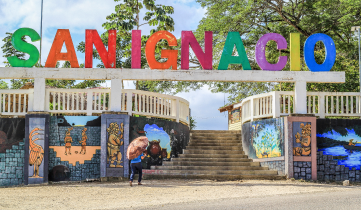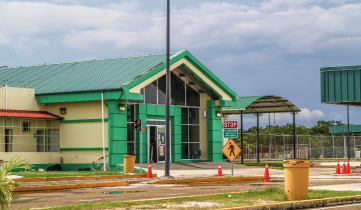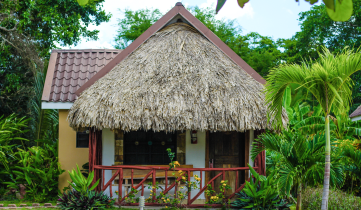 For North Americans moving to Belize is like "Offshore 101". It is close enough that you can fly, drive, or sail here. With English as the official language communicating with shippers, brokers, Immigration and Customs agents, and filling out necessary forms is simplified for native English speakers. Due to its close international ties with the United States and the United Kingdom, Belize is a common destination for those from the U.S., U.K., Canada, and Commonwealth countries.
The currency even reflects these strong bonds, being pegged to the U.S. Dollar at 2:1 yet retaining the image of Queen Elizabeth II. The common threads of democracy, common-law, and private property rights make it a familiar system when purchasing property, signing legal contracts, and navigating the process of visas, residency, and citizenship. The Government of Belize (GOB) offers three residency options, temporary residency, permanent residency, and the Qualified Retired Persons Program (QRP). The QRP program was created to incentivize those, if qualified, to permanently retire, relocate, and relax in Belize.
The QRP includes Belize Residency, Duty Exemptions for importing personal effects, household goods, cars, boats, and airplanes. Belize also provides tax exemptions on foreign-earned income, capital gains, and inheritance taxes. There are numerous shipping companies in Belize that provide air, sea, and land transportation of goods. Experienced international relocation experts advise to "keep it simple" when moving overseas. Carefully consider the "stuff" you really need before shipping it. Most people are moving to escape the rat race, so it is wise to downsize and embrace an uncluttered life.
The Carmelita Gardens residents and staff have years of experience with moving to Belize and are happy to help you navigate your way to our welcoming and growing community.