4-day - 3-night Discovery Tour​
Immerse yourself in the sustainable off-grid community of Carmelita Gardens and discover how residents live, shop, and gather. Embark on a journey through ancient Maya ruins, savor the flavors of local cuisine, and embrace the beauty of thriving flora. Secure your spot now!
To ensure a valuable experience and gain deeper insight into our vibrant community, we highly recommend scheduling a property tour before your arrival.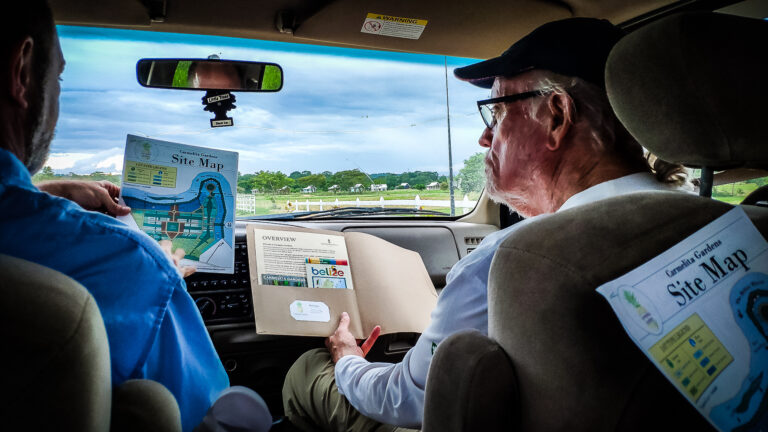 Carmelita Gardens Sample Itinerary

– Pick Up at The Airport
– Accommodation
– Dinner 

-Breakfast
– Carmelita Gardens Tour
– Lunch
– Home Tour 
– Community BBQ

– Breakfast 
– San Ignacio Town
– Lunch
– Spanish Lookout 
– Dinner

– Breakfast 
– Meet Your Neighbors 
Vacation and long-term rentals
"Home is where the heart is" and our homes are in the Heartland of Belize. Located in the beautiful Belize River Valley only seven miles from San Ignacio and Spanish Lookout, Carmelita Gardens is an ideal place to get away from the rat race and still be close to towns, businesses, and attractions.
Renting in Carmelita Gardens gives you a safe, friendly, and off-grid home base to explore western Belize and experience life in our new, self-sufficient, and growing community. Your rental home will be elegant and comfortable with solar power and rainwater systems. You'll enjoy the company of welcoming neighbors and fresh organic produce from our gardens.
Whether you are renting for a tropical vacation or renting as a new resident in Carmelita Gardens you'll find many enjoyable things to do for a vacation or as a lifestyle and you'll feel right at home.
This Map of Carmelita Gardens provides an overview of the entire Town Plan and includes the addresses (numbers) of all properties in the community. To find about about remaining AVAILABLE LOTS please contact us.