HOMES FOR SALE
IN CARMELITA GARDENS
BRAND NEW CUSTOM OFF-GRID VILLA FOR SALE
at Carmelita Gardens, Santa Familia Village, Cayo, Belize
2 Bed / 2 Bath (Shared Shower)
Interior = 1,028 SF
Porches = 658 SF
Total Living Area = 1,686 SF
Ground Floor Parking / Recreation = 1,656 SF
Total Under Roof = 3,342 SF

Sits on 150`x 110` Estate Lot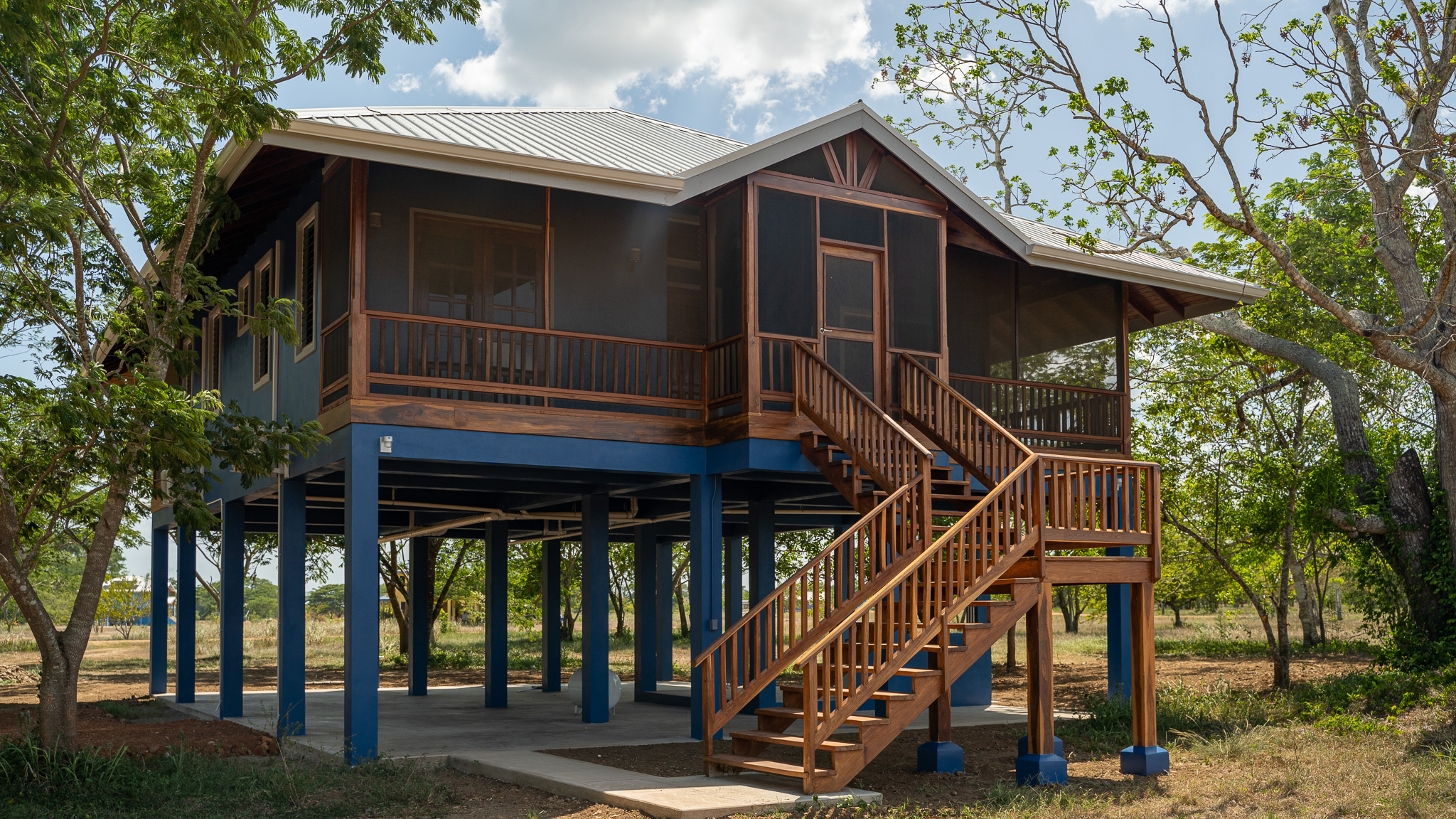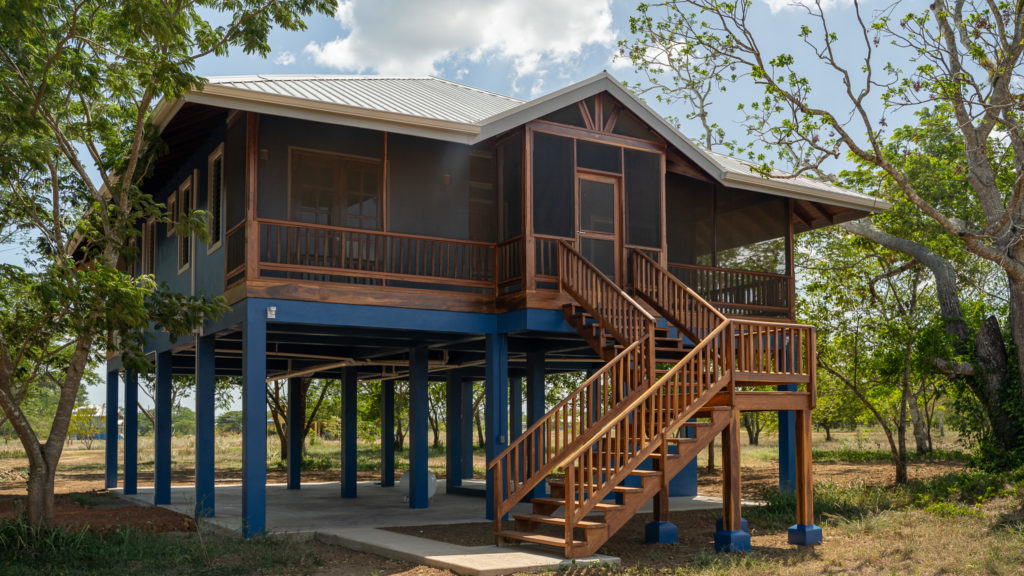 Charming Off-Grid Home with Modern Comforts and Thoughtful Design.
Welcome to this beautiful house for sale, located in a Sustainable Community in Cayo District, Belize.
Here are some key features:
Solar-Powered: Embrace sustainability with a fully solar-powered system. Rainwater Harvesting: an efficient rain catchment into the cistern, providing a reliable source of water.
Individual AC Units: Each bedroom is equipped with its own air conditioning unit, ensuring personalised comfort throughout the home.
Screened-in Front and Back Porches: Enjoy the outdoors bug-free with spacious screened-in porches, providing a comfortable space to relax and unwind.
Thoughtful Interior Details: Discover the timeless elegance of Belizean hardwood floors, ceiling rafters, doors, and cabinets, showcasing the beauty of local craftsmanship.
Quartz Countertops: The kitchen and bathrooms feature stunning quartz countertops, adding a touch of luxury to the living spaces.
Dining Area: Enjoy meals and entertain guests at the 6 ft teak table with six chairs, creating a welcoming space for gatherings.
Fully-Equipped Kitchen: The kitchen includes a gas stove, large bottom freezer fridge, microwave, Cuisinart air fryer/toaster oven, as well as pots, pans, silverware, dishes, and utensils. The upper cabinets have glass doors, and custom rattan bar stools add a unique touch.
Living Room: Relax in the cozy living room furnished with custom, matching loveseat, chair, and ottoman. Solid teak nesting tables, a TV cabinet, and two large lamps complete the inviting atmosphere.
Bedrooms: The guest bedroom features a teak bed, nightstands, and lamps, while the master bedroom offers a teak bed, nightstands, armoire, and lamps.
Loft Space: A versatile loft area above the bathroom offers additional living or storage space, accessible via a stair ladder.
Thoughtful Lighting and Fans: Every light fixture and fan has been carefully selected to complement the overall aesthetic and provide optimal functionality.

Covered Parking and Recreation Area: The driveway leads to convenient covered parking underneath the house, keeping vehicles protected. The Ground Floor also features a full concrete slab for entertaining, barbecues, games, exercise, relaxing in hammocks, and a myriad of other activities.
Here is a video of the development where the cottage is located
at Carmelita Gardens, Santa Familia Village, Cayo, Belize
total under roof: 605 sq.ft.
sits on 50` x 100` garden lot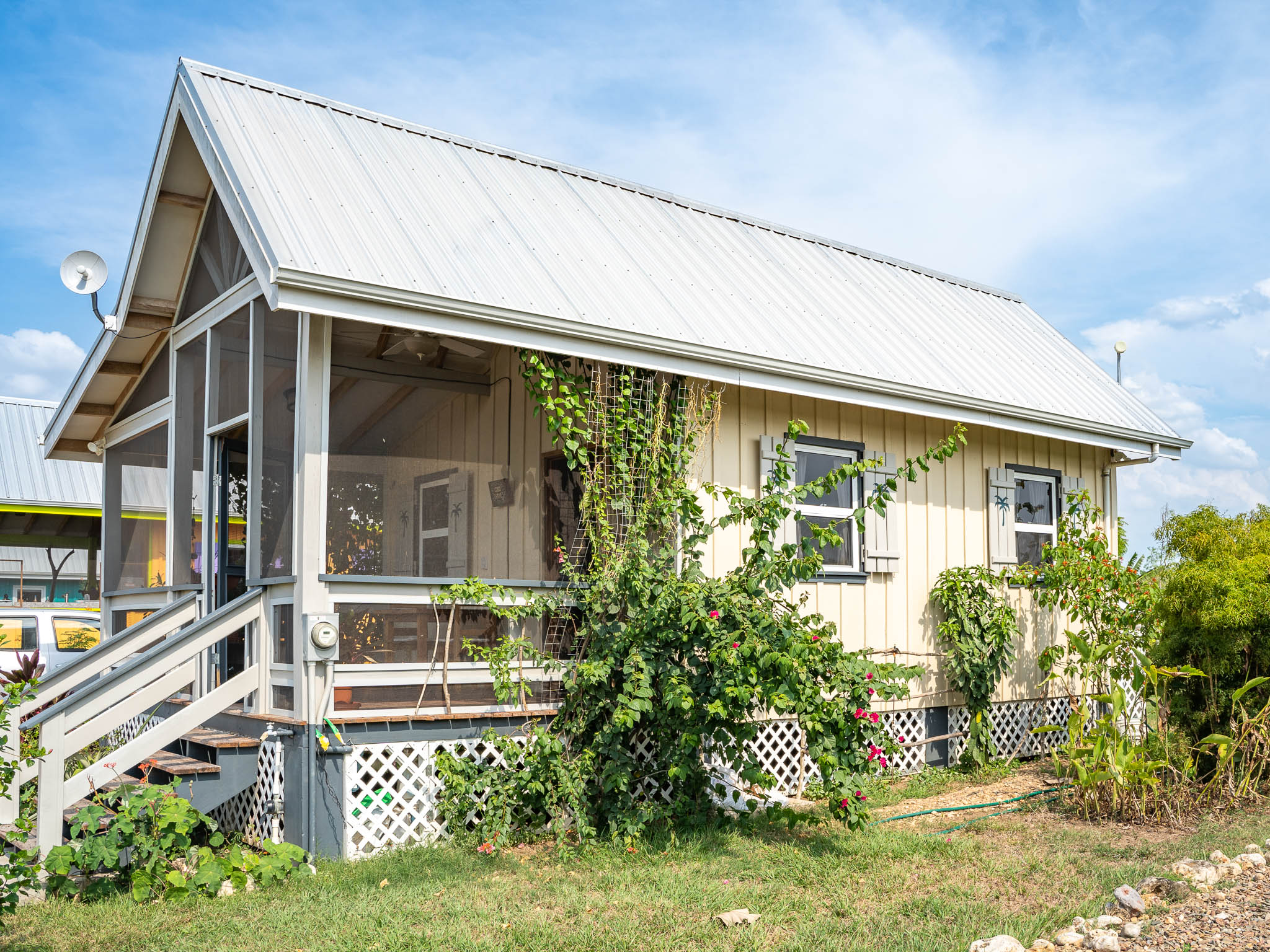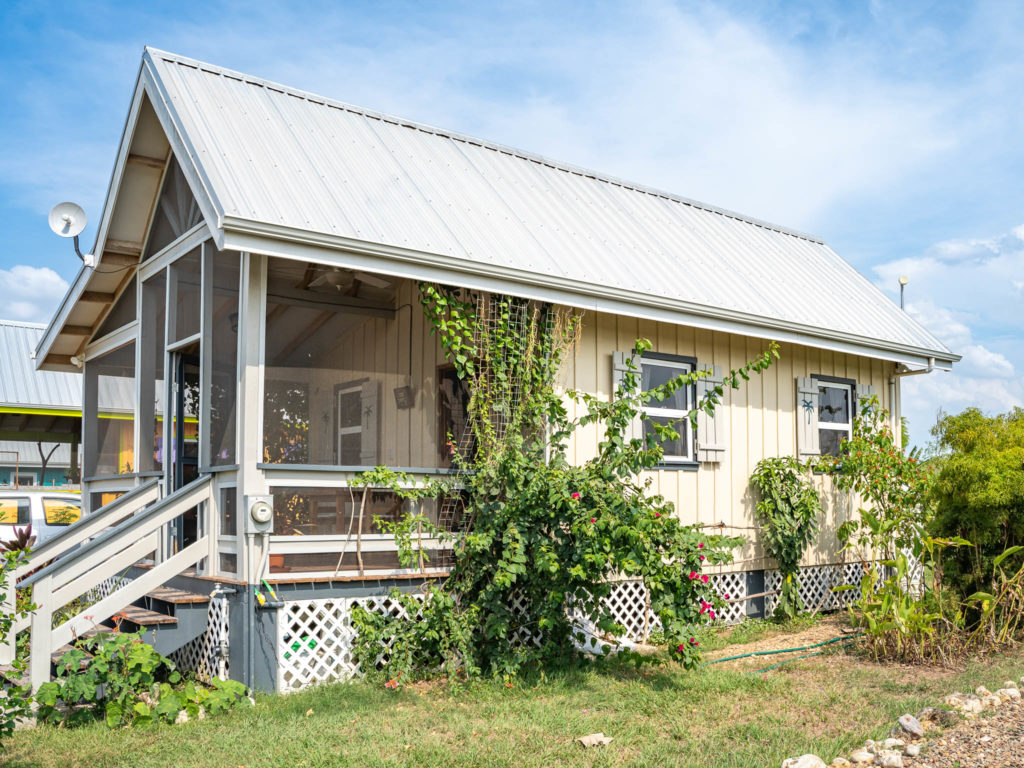 Utilities
Sustainable Micro-Grid Solar Power
Rainwater Harvesting
Eco-Friendly Septic
Cottage
Exotic Hardwood Cabinets, Doors, and Floors
Granite Countertop
Loft
Spacious Screen Porch
Furnished / "As-is"
Lot
Pineapples
Banana Palms
Decorative Vines
Fruit and Flowering Trees
Herbs
Here is a video of the development where the cottage is located
"Semplice Eleganza" ("Simple Elegance" in Italian) is the way to describe this gorgeous home. When the homeowner first visited Carmelita Gardens, which is nestled in the Belize River Valley, it reminded him of the verdant valleys of Tuscany, Italy. He was so inspired by that vision that he worked closely with award winning designer, Phil Hahn, to create a fusion of Caribbean and Tuscan architecture.