When I think about my 14 years in Belize I know my time in Santa Familia Village was by far the best.
A short drive or simple hop across the walking bridge to the cool little town of San Ignacio, Santa Familia is where my heart is.
A few years back Forbes Magazine rated Santa Familia as one of the best places in the world to retire.
People who don't know the village well were a little stunned.
"Santa Familia?" they asked a little incredulously.
'The little village a few miles between the bustling market town of San Ignacio and the Mennonite commercial hub of Spanish Lookout?'
At first glance Santa Familia doesn't seem to have much to warrant such lofty praise from such a magazine as Forbes.
But first glance appearances are deceiving.
Santa Familia has in fact everything I ever wanted, and much more…
If you come and take a closer look you will see what I saw in the place.
The opportunity to live a simpler life in harmony with Nature.
To be immersed in the traditional Belizean lifestyle, with smiling happy school kids all around, but also within a community of like-minded expats who understand where you are coming from.
The locals are good hard-working God-fearing folk.
They live close knit lives and smile and chat with everyone as they pass.
The expats are a little different too.
None of the loud, brash, 'look at me' crowd who give us "Gringos" a bad name.
Just good folk who are in Belize for the right reasons, who respect each other's privacy, decisions, and right to choose to live however they wish.
Most of my expat friends live in Carmelita Gardens, the off-grid sustainable community that abuts the edge of Santa Familia Village.
There are plenty of other reasons to live and love in Santa Familia: 
Peace and Quiet Back to the Basics
Santa Familia attracts decent, community minded, nature loving, neighbor helping folks who love the teaming nature, peace and quiet, and acceptance that this little corner of paradise brings.
At the junction of 2 mystical rivers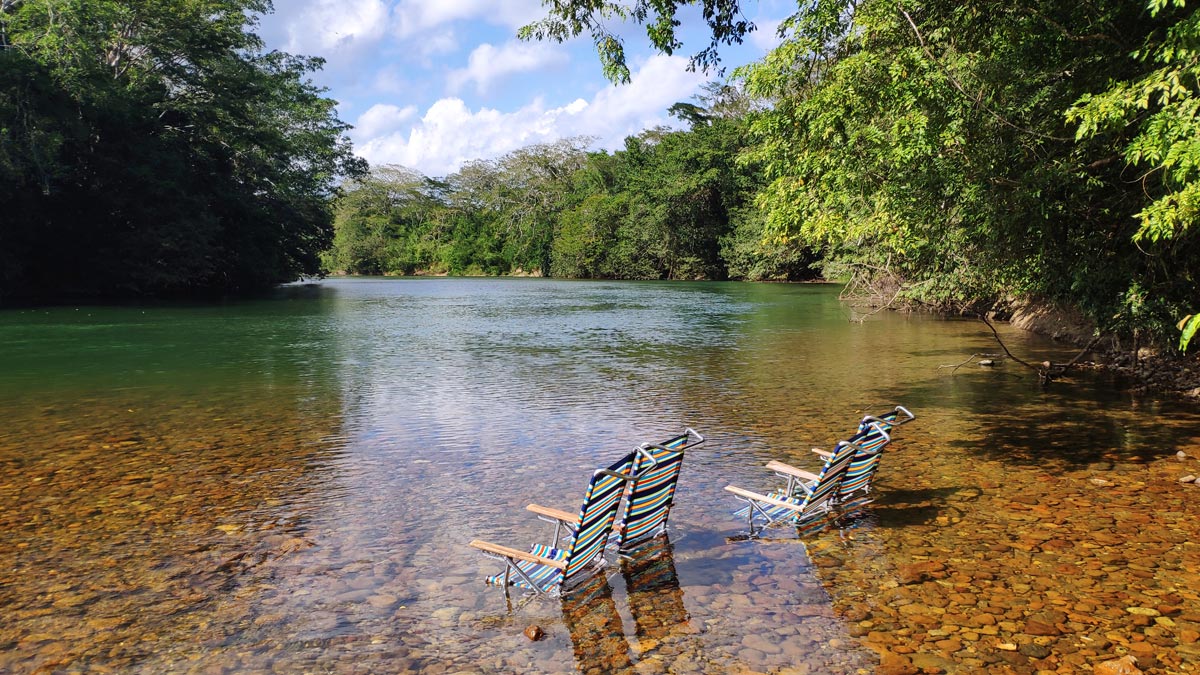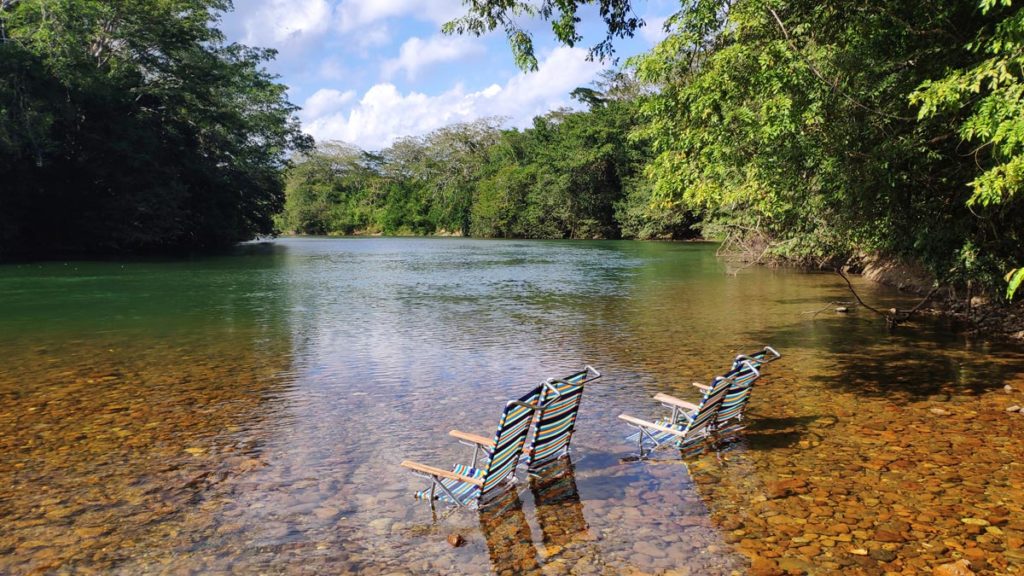 Santa Familia lies at the confluence of the two major rivers in Cayo, where the Rivers Mopan and Macal join to become the mighty Belize River. 
The beautiful Belize River is the lifeblood of the entire region.

Locals come from miles around to swim in natural swimming areas at Carmelita Gardens, where the natural pebble and sand beaches on the river banks offer cool spots to relax, swim, and play.

My favorites were the barbeques on the river banks with friends, and lazily floating down the river in inner tubes drinking beers on hot summer days.  
You will find you spend way less in Santa Familia and Cayo than you ever did back home. It's a combination of a less consumer driven lifestyle, lower cost of services, and a lower stress life leaving less of a reason to want to make yourself happier with "things".

The cost of medications, home help, yard workers, services, and repairs are all much lower than they are back in the US. There is no keeping up with the Jones's.
 
Simple things matter most in Santa Familia. 
Spectacular Wildlife at your doorstep
Santa Familia is as close to town as it is to the jungle. All sorts of stunning tropical flora and fauna abound.

Parrots, Toucans, Howler Monkeys, Bush Dogs, Aguti, Gibnut, you name it – and it lives close by.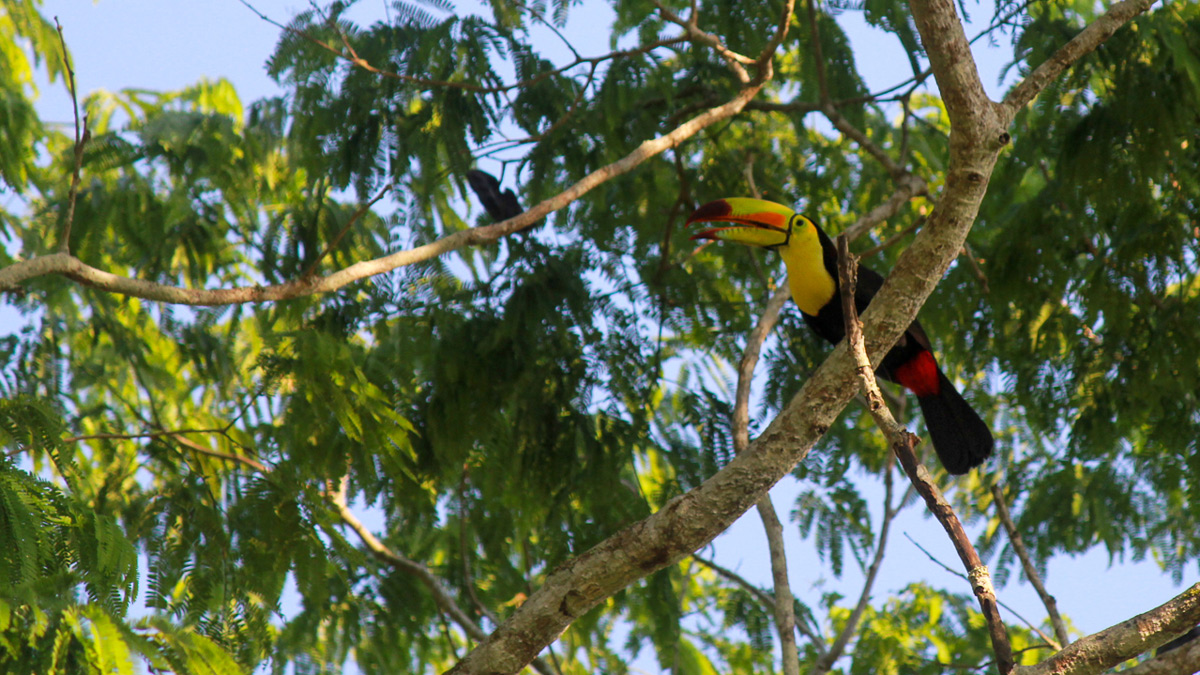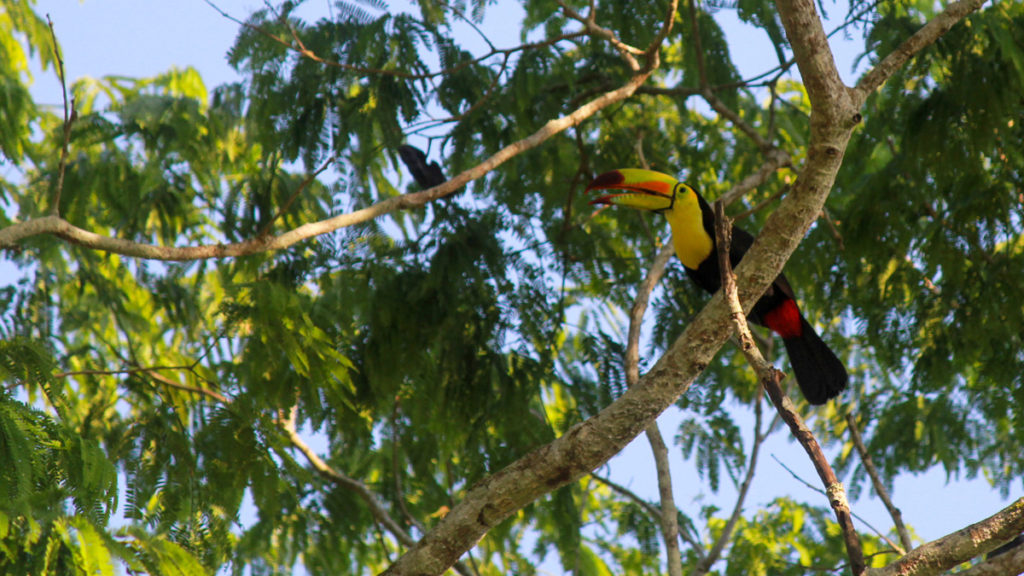 People ask me with terror filled voices about snakes and spiders, and I can honestly tell them I never saw a poisonous snake except flat on the road. Tarantulas won't come up to your house if you keep the yard cut.

The critters want to see you even less than you want to encounter them. 
Residential lots and mini farms available 
I lived right in the middle of Santa Familia village for a couple years. I actually shared a yard with a local family, two houses on one lot. 

They were great: kind, welcoming, honest, helpful….but boy when they wanted to party they could be LOUD.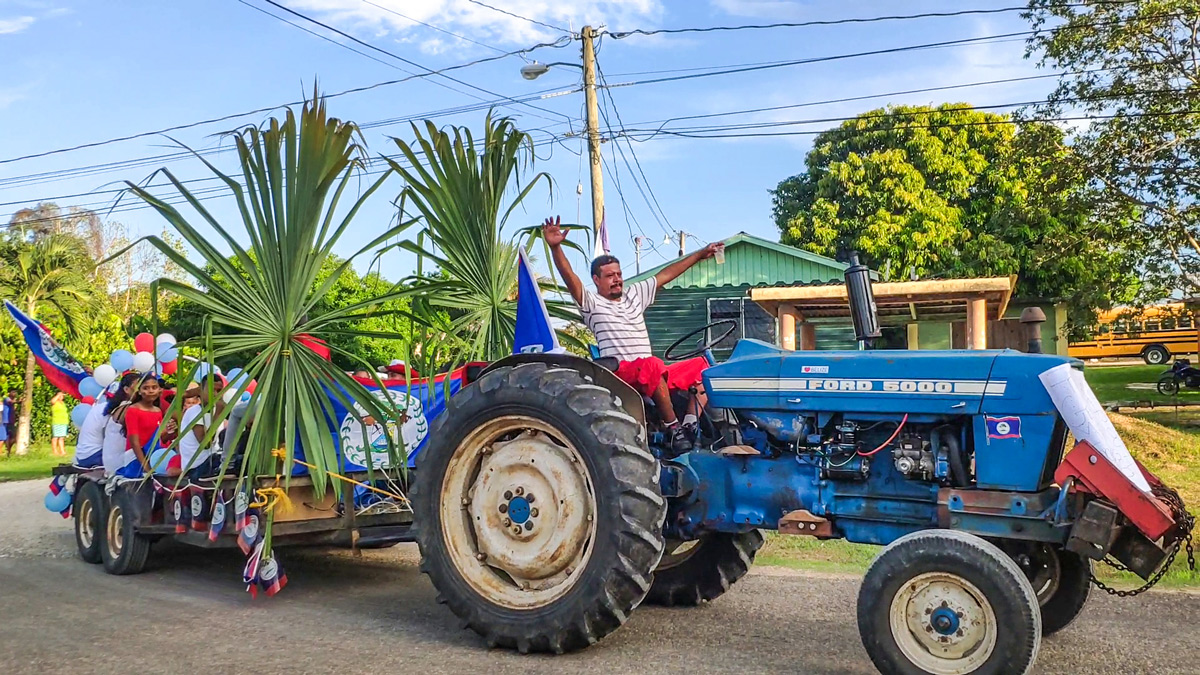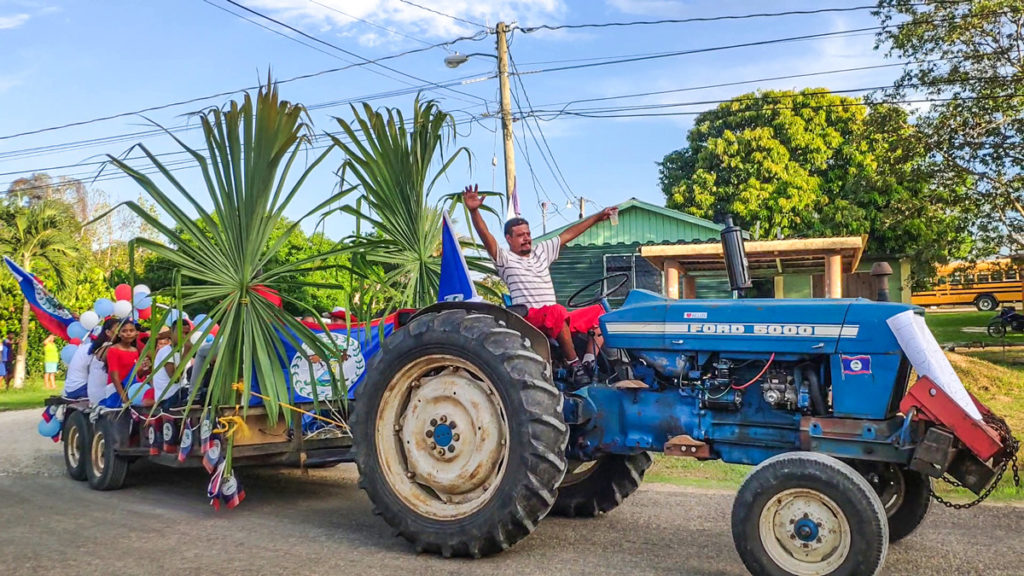 With no zoning laws, and a total sense of independence to do whatever they wanted whenever they choose…you have to be committed to living right in the center of a Belizean village.

That's why when I moved to Carmelita Gardens just down the road I realized I had found the best of both worlds. I was living independently in a community of like-minded folks, who had a better appreciation of the norms I was used to.

Carmelita Gardens has lots of all sizes, river front or mountain view.
A sustainable farming paradise
There is a reason that the Mennonites chose this area when they first moved to Belize 70 years ago.'
Deep fertile alluvial soils, plenty of rain, a plentiful river, sun drenched pastures and orchards – this is the breadbasket of Belize.

The problem isn't getting things to grow in Santa Familia, the problem is stopping things from growing.

If you wanted to, you could grow most of your food in your garden. Or grow some of what you need and swap with your neighbors. 
Most of the people who move to Belize with its lower stress lifestyle, healthier foods, and beckoning nature lose weight without realizing it. 
Local Tourist Attractions like
El Pilar Archeological Site: The Mayan Garden City is still just being rediscovered after hundreds of years.
Spectacular Cenotes further out in the jungle are a rare jewel.
Horseback riding along the river and through the forest areas.
The Bustling market town of San Ignacio has shops, restaurants, and nightlife.   
Raptor Center 
A cornucopia of natural medicine grows wild
In your garden or a little further into the "bush" you can find all sorts of traditional remedies growing. Locals have known to use the herbs and medicines for centuries, millennia even. 

Ask the locals to get you some, buy it from the market, or learn to grow your own. You might soon find your reliance on western medicine and pharmaceuticals lessening. 
If you want to work remotely from Santa Familia it's easy. With excellent internet connections virtually any online business or remote job is easily manageable from here.

If you needed to employ some office assistants, the wages are a quarter or less than what you would pay back home.
Turn Key Custom Built Homes
Did you ever think you could live in a custom built tropical hardwood home? Well now you can, from tiny houses to mansions.

Personally I don't think anyone needs a mansion in Belize. The beauty of Belize is outdoor living. You don't want to be inside all the time. A nice cool screened porch will be much more useful to you than large indoor spaces you will need to air-condition in the summer.
English Speaking Hispanic Village
The villagers nearly all speak English, albeit as a second language. So, you have a choice of languages to converse with them.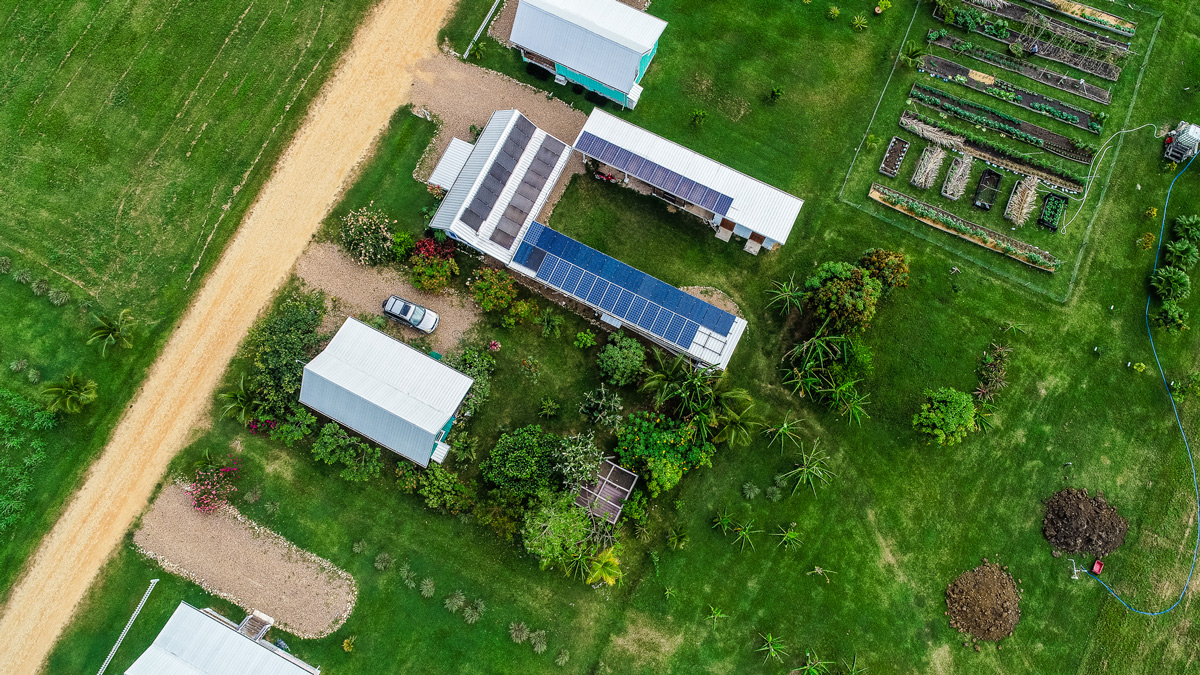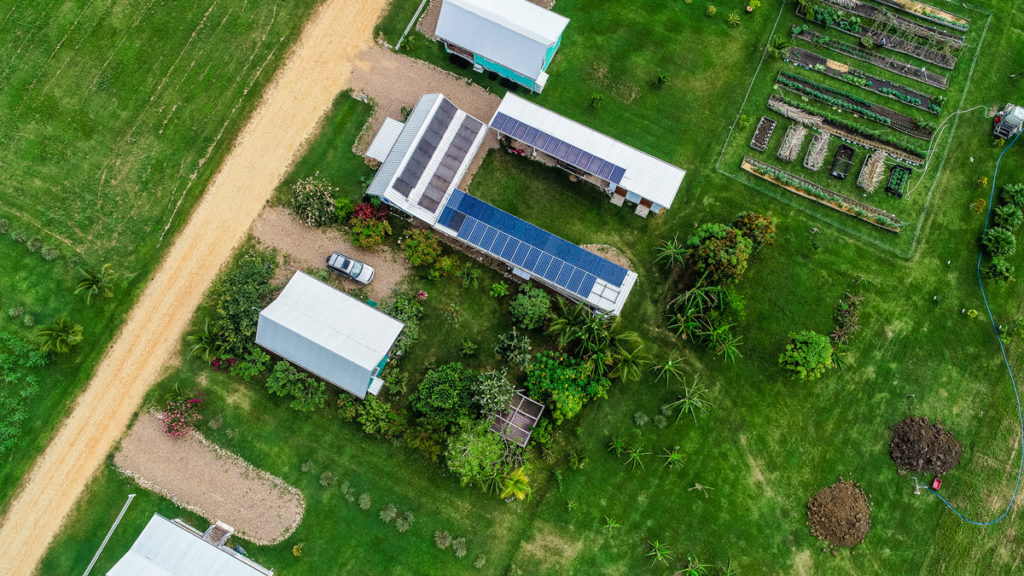 Off-grid living has come a long way in the past decade. No longer do you need to slum it with composting toilets or use just one appliance at a time.

In Carmelita Gardens they have a decade of off grid system design experience. Houses all run totally off grid, and the residents live in simple luxury. 

There are solar and off-grid providers and repairmen who live close by on call, and more sun and water than you'll ever need.

While Santa Familia is 7 miles by road to both San Ignacio in one direction and Spanish lookout in another, the walking bridge at Branch Mouth gets you over the river and into town in less than a 40 minute walk.
Other reasons to come to Belize
It's ridiculously easy to get a retirement residency visa…

If you have a pension or passive income of US$2,000 per month, you can easily qualify for the Qualified Retired Persons Residency Visa (QRP), a simple and relatively quick process.