At Carmelita Gardens we are hearing from owners, family, friends, and followers who are dreaming and preparing for a future where the values of self-sufficiency, food security, energy independence, and strong community are more relevant than ever. We are eager to welcome you to Belize and show you the exciting things we are doing and our peaceful sustainable lifestyle. The future is already here in Carmelita Gardens where the "new normal" is simply normal.
We understand that making the decision to go to another country, whether visiting on vacation or as a full-time move requires planning and preparation. One of the first, and most important questions you will need to answer, is "How do I get there?"
Luckily, we live in a time and place with various transportation options. When it comes to traveling to Belize, you have diverse choices. Some travelers drive through Mexico, some use their personal vehicles, others hire experienced drivers, some opt for buses, and a few adventurous souls even sail their boats here.
Despite the exciting adventures land and sea travel offer, the most popular and convenient way to reach Belize is still by air. The Philip Goldson International Airport (Airport Code: BZE) in Ladyville, Belize, hosts multiple airlines from the Americas. It's just a 15-minute drive from Belize City, making it easily accessible for in-country transportation options like water taxis, buses, and local airlines. There are at least ten international airlines flying to Belize, with departures from cities across the U.S., Canada, and Central America.
"Insider's Tip": Saturday's are the busiest days, all airlines have arrivals and departures and some have multiple flights. BZE is a relatively small airport, so with numerous flights on Saturdays the Immigration, Baggage Claim, and Custom lines are the longest of the week.
Flights To and From Belize
We recommend using Skyscanner.com, a user-friendly travel search engine. Here are some random examples of ticket you can find there. 
Round trip prices from USA to Belize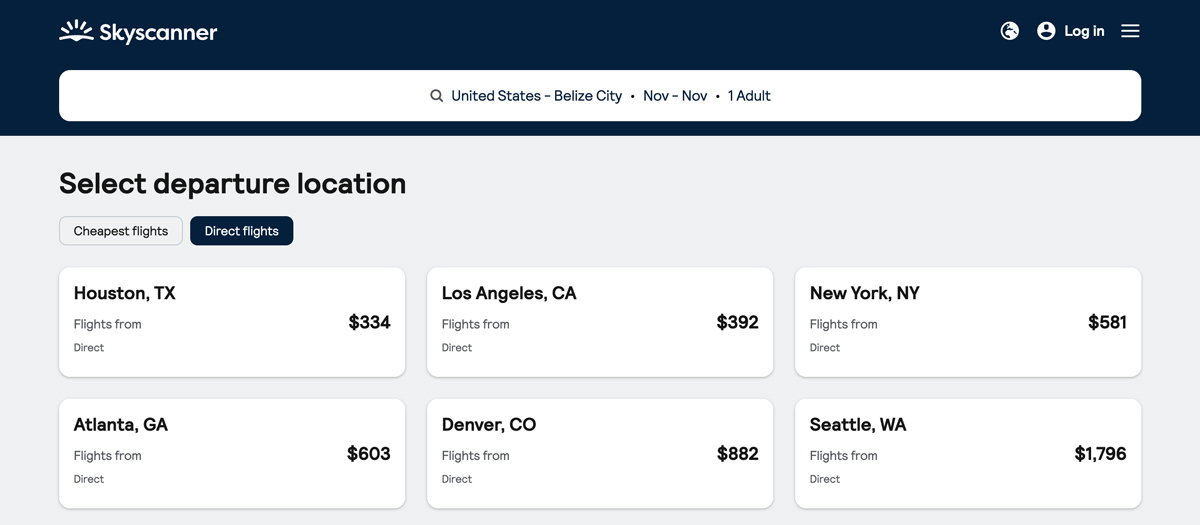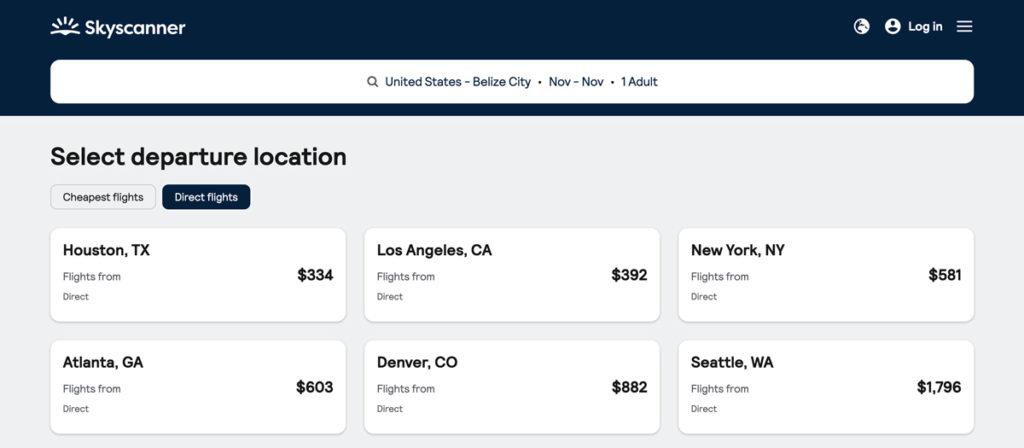 * All prices listed above are from Skyscanner.com and are subject to change.
Round trip prices from Canada to Belize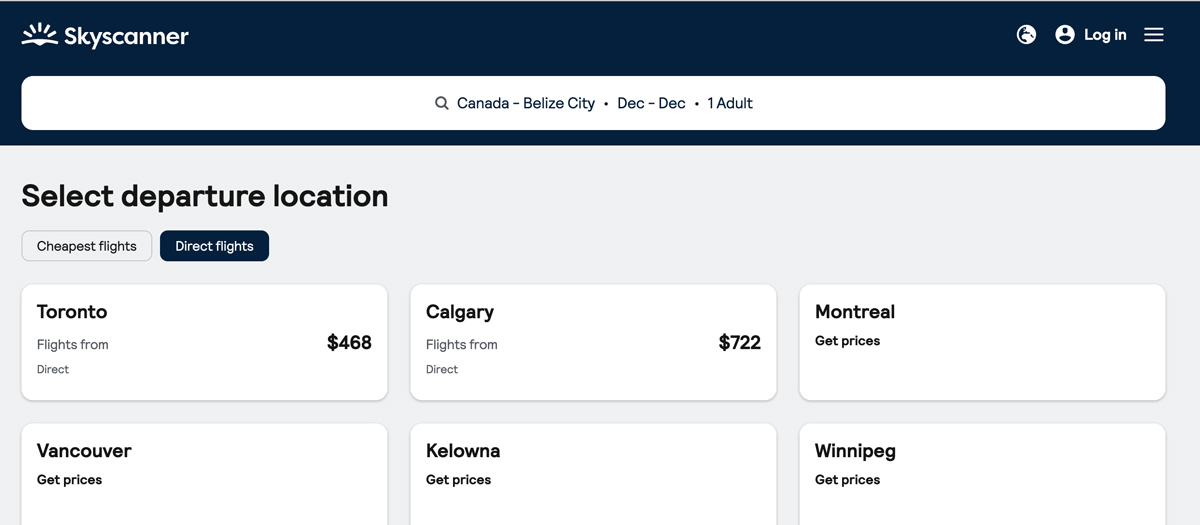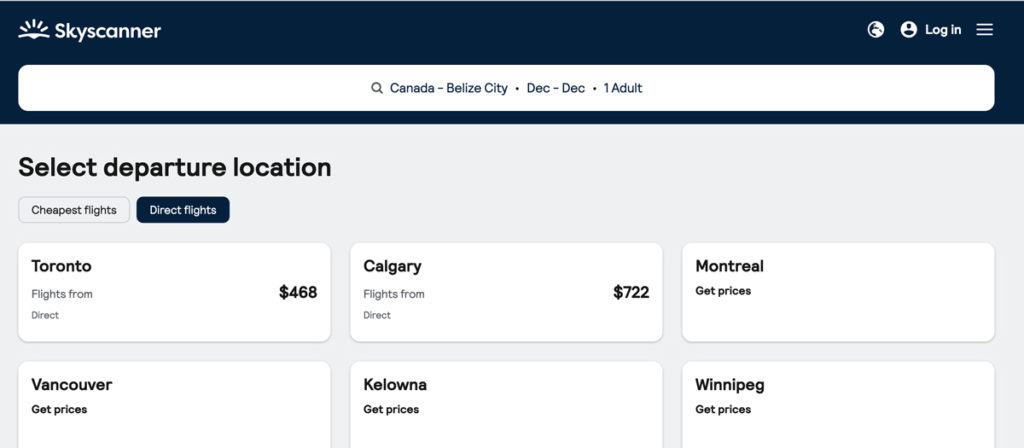 * All prices listed above are from Skyscanner.com and are subject to change.
Below is further information on Belize bound flights including airlines, general schedules, cities, airport codes and approximate flight time.
Depending on your seat location you may be able to see the 4 "R's" of Belize. So, when the pilot announces, "We are on our final approach into Belize", look for Reef, Ruins, Rainforest, and Rivers, if you're lucky you may be able to see the quadfecta.
The hardest one to find is Ruins, however there is a 5 th "R" of Belize, which is the easiest to find, but you'll have to wait until you clear Immigration and Customs to buy "Rum". We recommend the Premier Duty-Free Shop at the end of the baggage claim concourse where the carousel starts. They have a great selection, friendly staff, and public restrooms. Helpful Hint: If you plan on drinking wine while in Belize, the Inbound Duty-Free Shops have the best deals in the country. 
Before you start looking for the 5 "R's" the flight attendants will provide you with your Immigration / Customs Form, which is a simple two-sided document. Belize makes the process easy, only requiring the Form and a valid passport, which you will provide to an Immigration Officer after deplaning.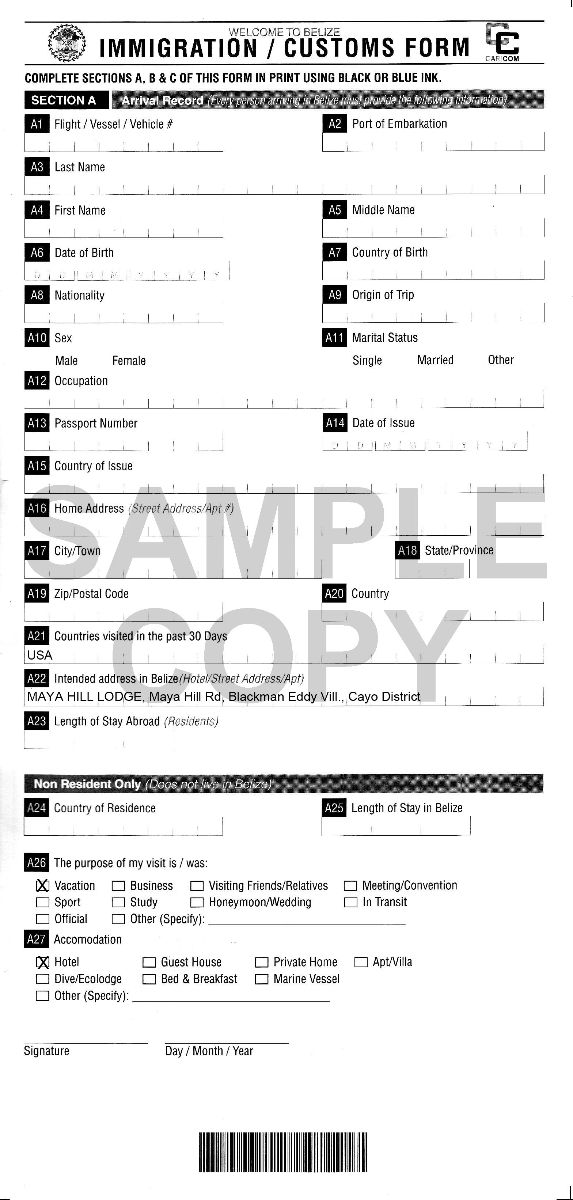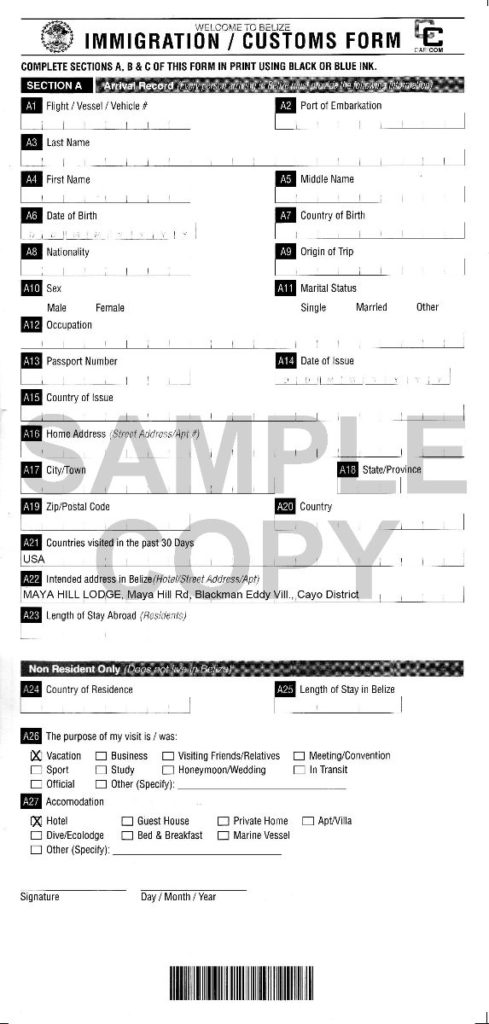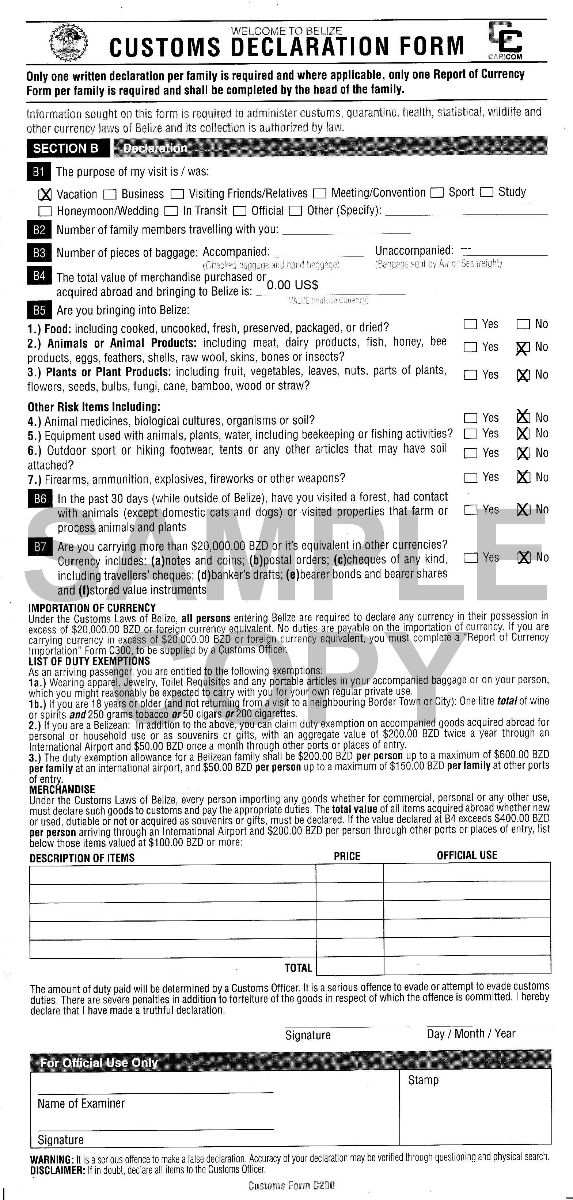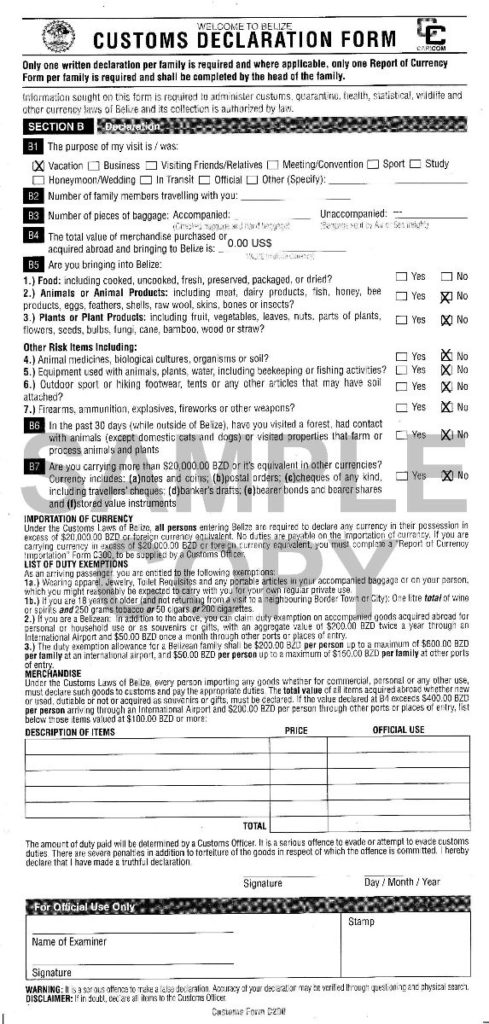 Once through Immigration you will be able to claim your checked baggage from the carousel and proceed to the Customs Officer. Present your validated Customs Form to the officer and they will direct you forward. They will occasionally ask to check larger bags, mostly to check for items that may need to be claimed, so don't worry if you are pulled aside. 
The stamp you get in your passport is considered a Tourist Visa and the Immigration Officer will validate it for a maximum of 30 days. If you find yourself wanting to stay in Belize longer than 30 days, extensions are available at Immigration offices around the country. The cost of a visa extension, for another 30 days, is $100.00 USD. 
Upcoming Discovery Tours
To help introduce you to Belize and Carmelita Gardens we have organized 4-day / 3-night Discovery Tours. The tours are a great way to immerse yourself in the culture and environment, visit comfortable off-grid homes that are simple and elegant, and learn about the variety of lifestyles our residents live. Beyond Carmelita Gardens you will explore ancient Maya ruins, savor the flavors of local cuisine, and experience the beauty of tropical flora and fauna. Your Belizean adventure awaits, secure your Discovery Tour spot now!